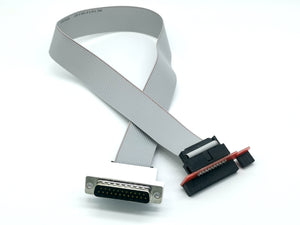 EXTERNAL GOTEK ADAPTER AMIGA 500 600 1000 1200 2000 3000 4000 UNCUT GENUINE DB23M
EXTERNAL GOTEK ADAPTER allows you to connect a GOTEK DRIVE with a Flash Floppy firmware to your Amiga Disk Drive Port. The jumper on your Gotek Drive has to be set to S1. 
The adapter has a detachable cable - 45cm long allowing you to place your Gotek drive next to your computer instead of on top - therefore no risk of scratching your Amiga case.
With a GENUINE/UNCUT DB23M connector you do not have to remove any screws, cut anything or risk accidental, improper connection which might result in damaging of your Amiga. It is a simple PLUG & PLAY just like in the good old times - genuine/uncut DB23M connector makes it that easy.
What you will receive:
- Gotek External Adapter
- Genuine/Uncut DB23M connector with a high quality 3D printed casing
- 45cm long detachable cable
Please note:
- Not all Amiga games boot from DF1:
- The jumper for the Gotek Drive has to be set to S1
- Gotek has to be flashed with Flash Floppy firmware
-  Amiga with Kickstart 1.3 needs a boot drive selector adapter to be able to boot from an external drive.