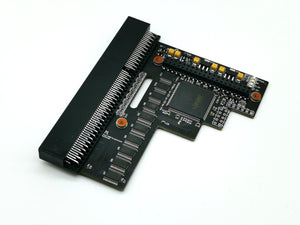 PiStorm32-Lite AMIGA 1200 RPi RASPBERRY ADAPTER TURBO BOARD ACCELERATOR
PiStorm32-Lite
PiStorm32-Lite is an AMIGA 1200 RPi ADAPTER which allows you to connect a Raspberry Pi to your Amiga. It will give a huge boost to your Amiga's performance allowing also modern connectivity to your HDMI screens.
Currently supported Raspberry Pi models:
RPi3A (strongly suggested due to best compatibility)
RPi3B
RPi4B
What you will receive:
1x PiStorm32-Lite adapter

3x M2.5 Screws with 8mm thread length
3x Spacers 
1x Thermal Pad with 1mm thickness just to cover the RPi CPU
1x 3D printed RPi header protector
PLEASE NOTE:

More information regarding the project:
https://github.com/PiStorm/pistorm32-lite-hardware
The PCB colour is BLACK.
We support Claude Schwarz the designer of the PiStorm32-lite by donating to this amazing project.

WE DO NOT TAKE RESPONSIBILITY FOR YOUR MISTAKES DURING INSTALLATION. 
Please study the following information carefully before installation:
https://github.com/PiStorm/pistorm32-lite-hardware