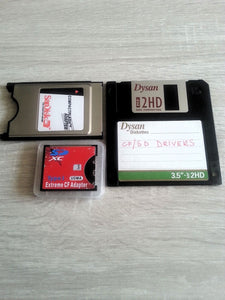 PCMCIA adapter + SD to CF Type I SDHC + Drivers - Amiga 600 & Amiga 1200
Brand New Sandisk PCMCIA Compact Flash adapter. 
Brand New SD do CF Type I SDHC Compact Flash Adapter for Amiga A600 A1200
Insert SD/SDHC/SDXC 2GB to 128GB capacity card 
to turn it into a CF type I (compact flash card) ready to use with the PCMCIA CF adapter.
Brand New Floppy Disk with the Newest Compact Flash / SD Card drivers.
This is the newest version of the drivers with improved compatibility, bug fixes and improved stability.
Requirements:
Amiga A600 with Kickstart 37.300
AmigaOS 2.x
Any Amiga A1200 with Kickstart 3.x
You will receive:
PCMCIA CF adapter
SD to CF Type I adapter
A floppy disk with all the drivers
Instruction manual in English